Pitfalls and possibilities with international partnerships: An interview with Gun-Britt Wärvik, the Swedish coordinator of an international partnership program.
Keywords:
Concepts, context, doctoral program, doctoral students, supervisors, cooperation
Abstract
This paper is based on an interview with one of the principal leaders of an international partnership program between Ethiopia and Sweden, 2018-2022. The purpose of this interview is to deepen the understanding of these kinds of partnership, and to learn more about the possibilities and pitfalls of working in a joint program between national and cultural contexts. The interview was conducted with professor Gun-Britt Wärvik, the Swedish coordinator of the doctoral program between Addis Abeba University (AAU) and University of Gothenburg (GU). The interview results suggest that doctoral supervisory challenges were present as students often used concepts produced in cultural contexts that were foreign to their assigned supervisors. Additionally, the administrative burden was particularly challenging for the Ethiopian counterpart that coordinated the program. Overall, the program created many positive work opportunities for students, provided possibilities for staff of both universities to exercise supervision and examination of doctoral students and enriched international experiences for all involved.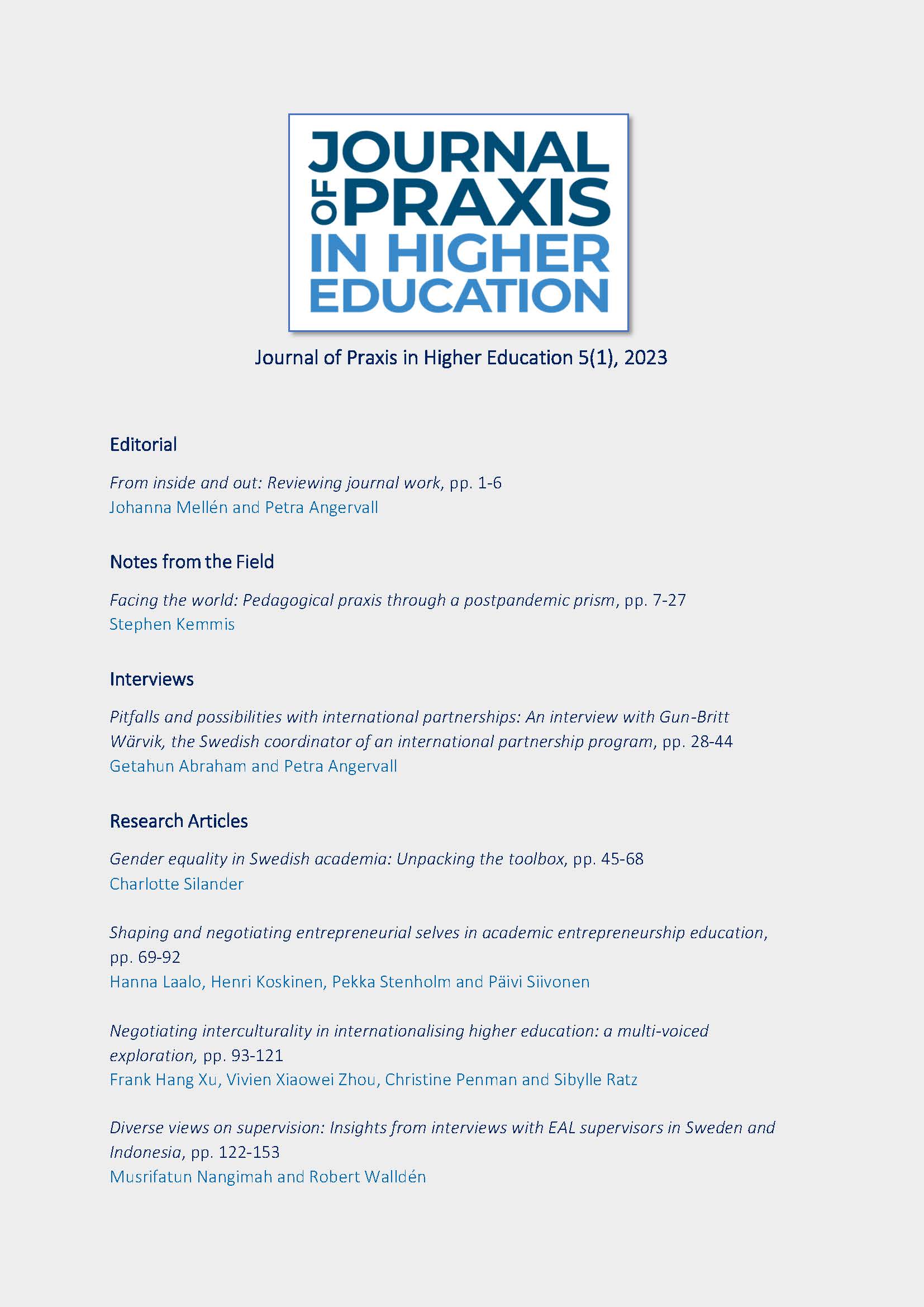 Downloads
How to Cite
Abraham, G. Y., & Angervall, P. (2023). Pitfalls and possibilities with international partnerships: An interview with Gun-Britt Wärvik, the Swedish coordinator of an international partnership program. Journal of Praxis in Higher Education, 5(1), 28–44. https://doi.org/10.47989/kpdc444
Section
Interviews (not peer-reviewed)