Confronting Becky: An autocritographic examination of white women's gendered racism in higher education
Keywords:
Gendered Racism, Racial Gatekeeping, Racism, White Supremacy, Student Affairs
Abstract
White women are socialized to use their gender subordination as a defense when confronted with their racism. Using intersectionality, I built a framework intertwining idealized objectification standards and racial gatekeeping to reveal how white women use specific practices to gain and maintain power and restrict access from People of Color. Through autocritography, a self-study methodology focused on telling and retelling stories, I examined how gendered practices protected and insulated me from addressing my active racism. I detailed a series of events that occurred in my role as a social justice educator at a south-eastern public university in the US and highlighted my attempts to maintain my reputation as a 'good' white woman. I also discovered consequences I faced for not upholding this reputation. My findings revealed several ways that white supremacy maintains itself in our society using ties to our socialized norms and expectations. I finished with a discussion of how this study relates to and further supports studies regarding the negative experiences of People of Color in higher education. Finally, I share implications for students, staff, and faculty both inside and outside of the classroom using three artifacts: a case study, an email response, and a twitter post.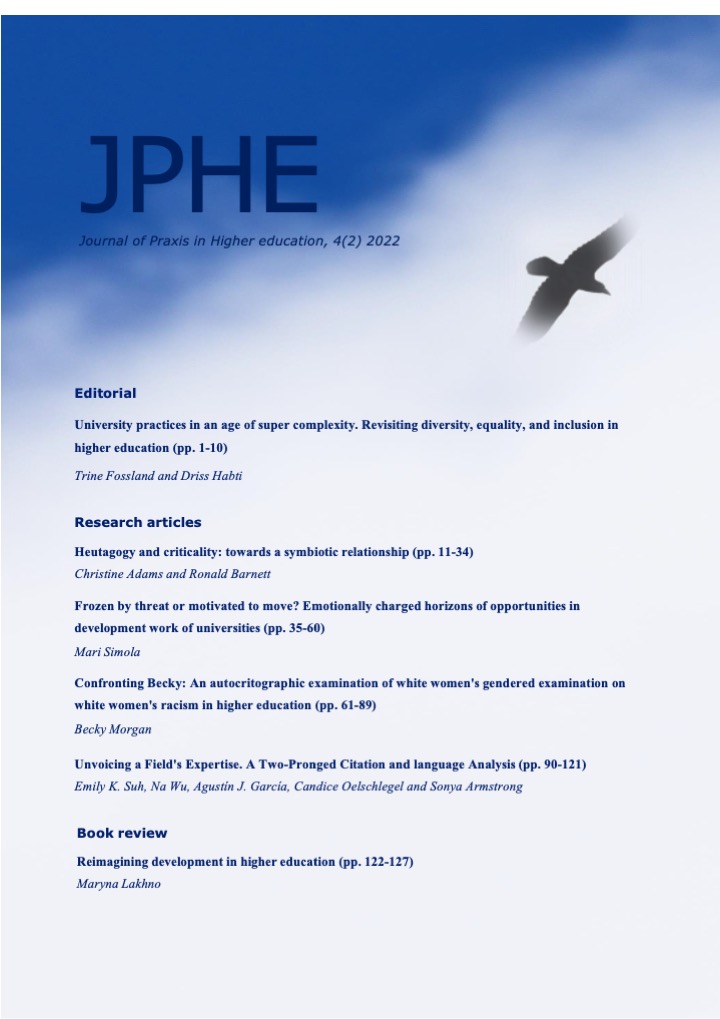 Downloads
Section
Research Articles (peer-reviewed)