Practical applications of naturalistic inquiry in intercultural education
Keywords:
applied naturalistic inquiry, communication training, conversation analysis, intercultural higher education, intercultural competence
Abstract
In recent years, the field of intercultural communication has seen a remarkable shift characterized by a growth in publications that distance themselves from the traditional, essentialist understanding of culture. In research, this shift is reflected in approaches that appreciate culture-in-action instead of taking culture for granted as a stable entity that pre-exists social interaction and predicts as well as explains human behavior. However, despite attempts to introduce differentiated views on culture and interculturality in education, concrete options for critical intercultural training are scarce and often remain abstract, which makes their application challenging. This article argues for the use of naturalistic inquiry in intercultural education. This pedagogical choice may provide students with access to authentic data and allow them to observe and analyze facets of interculturality by themselves while working out practical solutions collaboratively. Advantages of naturalistic inquiry include independence from theoretical presuppositions, approachability for facilitators and students alike, and applicability to a wide variety of naturally occurring social interactions. The article proposes that naturalistic inquiry enables students to identify and analyze practices that may be problematic with respect to cultural attributions or categorizations and encourages them to notice and discuss the meaning of culture as it dynamically surfaces in interaction.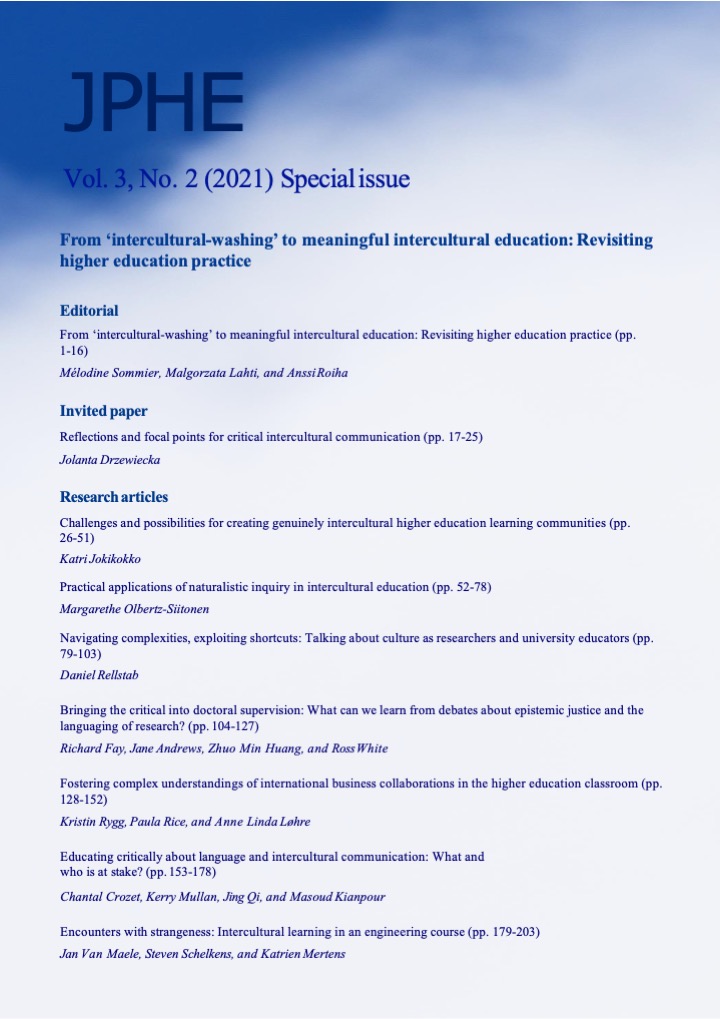 Downloads
How to Cite
Olbertz-Siitonen, M. (2021). Practical applications of naturalistic inquiry in intercultural education. Journal of Praxis in Higher Education, 3(2), 52–78. https://doi.org/10.47989/kpdc127
Section
Research Articles (peer-reviewed)