Challenges and possibilities for creating genuinely intercultural higher education learning communities
Keywords:
equity, higher education, intercultural learning community, review, social justice
Abstract
This article synthesises and analyses the existing research and literature that has discussed the challenges and possibilities of providing intercultural learning environments for diverse students in the context of higher education.  A genuinely intercultural learning community provides equitable learning possibilities for all, is characterised by social justice, and allows all participants to feel a strong sense of belonging. Based on this review, the main challenges in creating equitable learning communities in higher education relate to institutional barriers, such as institutional racism and discrimination, monolingual higher education policies, and neoliberal educational agendas that contradict the principles of social justice. Interpersonal challenges (such as lack of intercultural competence) also exist, as do challenges related to acknowledging intercultural perspectives in curricula and pedagogy. The conditions that the existing literature suggests will create genuinely intercultural learning communities include rethinking the strategies, policies, and curricula of higher education institutions; supporting students' and staff's intercultural competences; and developing pedagogical approaches for acknowledging social justice and diverse learners. Based on the literature reviewed for this article, it is obvious that there are no easy tricks that can 'fix' the situation and create genuinely intercultural learning communities, but intercultural approaches and aspects ......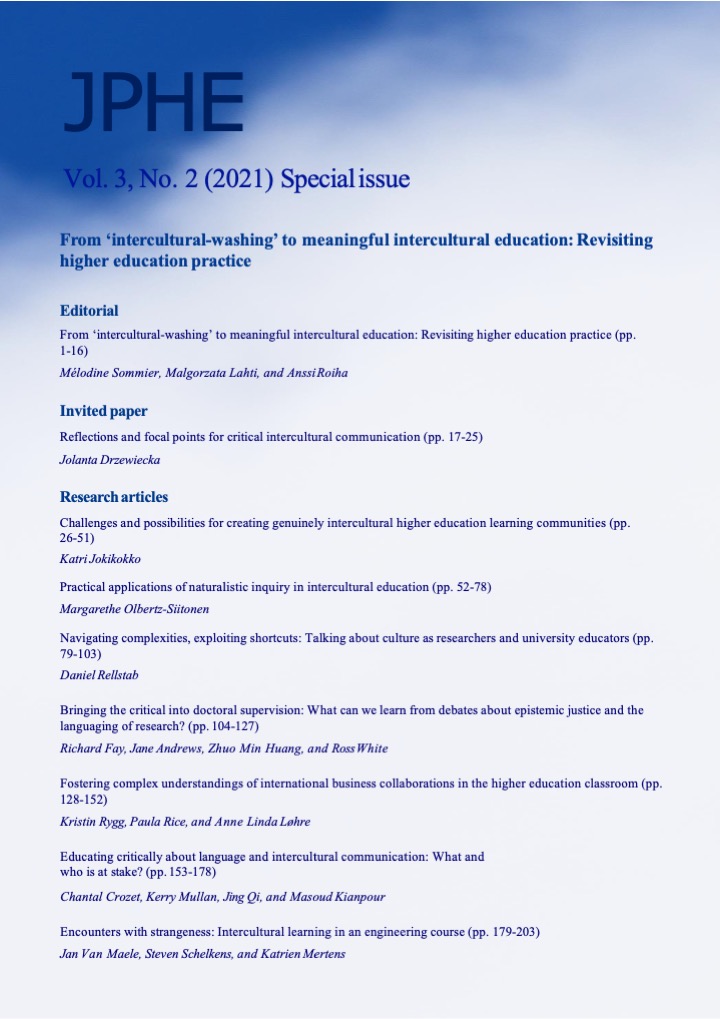 Downloads
How to Cite
Jokikokko, K. (2021). Challenges and possibilities for creating genuinely intercultural higher education learning communities. Journal of Praxis in Higher Education, 3(2), 26–51. https://doi.org/10.47989/kpdc111
Section
Research Articles (peer-reviewed)