Bringing the critical into doctoral supervision: What can we learn from debates about epistemic justice and the languaging of research?
Keywords:
critical intercultural ethic, epistemic injustice, supervisory praxis, transknowledging, translingual mindset
Abstract
In this article, we discuss how, as supervisors in largely Anglophone university contexts in England, we are trying to develop supervisory practices informed by the discussions of epistemic (in)justice and the languaging of research. Having rehearsed these discussions, and considered the opportunities provided by research integrity policy formulations in our context, we conceptualise doctoral supervision critically, interculturally, and ecologically. We then report our efforts to shape the supervisory agenda so that, in the local spaces available to us, the shaping influences of the epistemic and linguistic in the wider research environment are problematised. In particular, we focus on two strands of our thinking, namely: a) the implications of epistemic hierarchies and the value of an intercultural ethic for the transknowledging at the heart of doctoral research; and b) the role of language(s) in research and the value of a translingual researcher mindset. In both strands, our thinking has moved from a more instrumental to a more critical stance regarding research, researcher thinking, and supervision. This development highlights some of the complexities involved in developing critical intercultural praxis for doctoral supervision. We conclude with recommendations—aimed at all those involved in doctoral supervision—to facilitate a critical intercultural supervisory culture.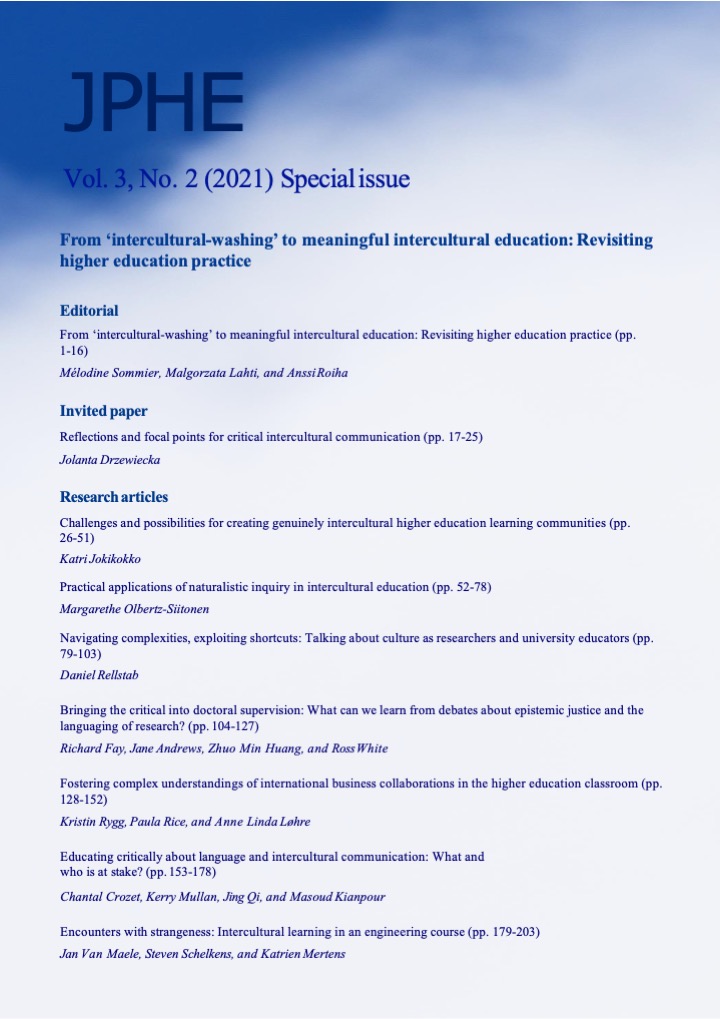 Downloads
How to Cite
Fay, R., Andrews, J., Huang, Z. M., & White, R. (2021). Bringing the critical into doctoral supervision: What can we learn from debates about epistemic justice and the languaging of research? . Journal of Praxis in Higher Education, 3(2), 104–127. https://doi.org/10.47989/kpdc109
Section
Research Articles (peer-reviewed)